There are many types and styles of easels to choose from and picking the right easel for your painting style can be a little daunting. They range from reasonably priced to mega expensive, so choosing the best easel is important for your art as well as your wallet.
Whether you are a brand new painter looking for your first easel or a professional artist ready to upgrade, the article below will help you decide which one is right for you.
Important Considerations Before Buying an Easel
There are a few things to take into consideration before buying an easel.
First there is your budget to think about. Good easels can be pricey. If you are just starting out, a table top easel is probably most affordable.
The next thing to consider is the amount of space you have. Floor model easels can take up a lot of space. Make sure your new easel will fit comfortably in your painting area or studio before you buy.
You should also think about how you are going to use the easel. Will you only use it in your studio? Will you be painting outside? Does it need to be collapsible and compact for travel?
What size canvas will you be using? Table top easels can handle smaller canvases but larger canvases, say 16x 20 or bigger, tend to tilt or move without better support. A floor model easel can work for any size canvas. Learn more about choosing the right canvas in my article How to Choose the Right Canvas.
Whatever your needs, there is an easel that is right for you.
This post may contain affiliate links. If you click a link and buy, I may receive a small commission. Please see my full privacy policy for details.
Types of Easels for Painting
There are many types of easels available. From plein air easels, to large studio easels, to tabletop art easels. Easels that are designed for beginners to the serious artist.
Below I have listed and explained some of the most popular types of easels for painting.
A-Frame Easel
The most common type of easel is the A-Frame easel. It is called an A-Frame because it looks like the letter a with two legs in the front and one in the back.
This easel is usually the one you see in pictures or movies and the one that most comes to mind when you say "artist's easel".
The A-Frame can accommodate small to medium size paintings and are made of wood or aluminum.
Pros: Affordable option for beginners. It is lightweight and can usually be folded for storage.
Cons: The design makes it a little unstable. The larger the canvas, the more unstable it becomes.

Blick A-Frame Studio Easel
from: Blick Art Materials
H -Frame Easel
The H-Frame easel gets its name for its four sturdy legs that are shaped like an H. They are usually made of strong wood such as elm or beech wood.
The H-Frame is a large easel and can accommodate small to large canvases and is the one most often used by professional artists.. Most come with wheels so they can be moved around the studio.
Most of these easels also come with a shelf or ledge to hold art supplies while painting.
Pros: This is a large, sturdy easel that can accommodate very large paintings but can also be used for smaller paintings. It is a great easel for large work.
Cons: Because of its size, the H-Frame takes up a lot of space in a studio and cannot be folded for storage. Be sure to purchase one with wheels so it can be moved around in your painting space for convenience.
Single Mast Easel
Single mast easels have one leg ( the mast ) and are like a slimmer cousin to the A -Frame easel. It is not the most stable easel but it takes up less room and is generally cheaper than the A-Frame or H-Frame.
The single mast easel can handle large canvases and are manufactured using wood or aluminum. They are lightweight and designed for a studio setting.
Pros: The single mast easel is not as heavy or cumbersome as the A and H frame easels and is usually cheaper to purchase. It can handle large canvases and doesn't take up a lot of room in a studio.
Cons: This easel is not as stable as the H-Frame and does not generally come with any form of storage for art supplies.

American Easel Golden Oak Professional Easel
from: Blick Art Materials
Tabletop Easel
Tabletop easels are ideal for small spaces and are a great option for artists who have limited space. As the name implies, they sit on a table or workbench so you can sit as you paint. You can purchase them in A-Frame style, H-Frame or single mast.
Although they are fairly stable, they are only suitable for smaller canvases. The largest size canvas I have used mine with is a 16 x 20 and I had to put a thin piece of board behind it to keep the canvas from tipping while I paint.
Table top easels can be folded for easy storage so they are convenient to use at your kitchen table. You can just fold it up and store it out of sight when you switch from artist to cook.
These easels are also great to use for other mediums like colored pencil drawing, graphite drawing or pastel painting.
Pros: Small but sturdy. Doesn't take up much space and can be folded for storage. Can be used at your kitchen table and you can sit while you paint.
Cons: Only suitable for small canvases.
Convertible Easel
A convertible easel can be set up vertically like standard easels or horizontally like a table top easel. This is great for artists that work in several different mediums such as oils and watercolor. The orientation can be changed depending upon what you are working on.
You can have the easel stand upright if you are painting in oils or acrylic or switch it to a horizontal orientation if you are working on watercolors.
These are also great for varnishing a finished painting. Just switch it to a horizontal position when you are finished painting and apply your varnish.
Convertible easels can accommodate large or small paintings depending on what size you buy. Some of them also come with built in storage for your art supplies.
Pros: Great for the multi-medium artist, the convertible easel can stand horizontally or vertically. They are generally sturdy and great for varnishing a finished painting as well. For more on varnishing your painting, see my post on How to Varnish Acrylic Paintings.
Cons: The only real con to a convertible easel is that they can take up a lot of space. They are best used in a studio that has the necessary spay to allow it to be converted to a horizontal layout.
French Easel
A French Easel is a portable easel that is perfect for Plein Air painting (or outdoor painting). They have three legs that fold out and can be adjusted to the height you need. They also have a box for storing art supplies. The drawer in front can be pulled out to hold your palette while painting.
The whole thing can be folded for easy carrying and storage.
Some French easels come with a bag or some type of carrier to transport wet paintings.
A french style easel can be a little heavy to carry. They usually weigh around 10 pounds (around 4.5 kilograms) but you can also purchase a lighter weight field easel that are made from aluminum and don't have the storage box.
Pros: Great for outdoor painting. Fairly sturdy with storage and adjustable legs. Compact and can be completely folded for carrying.
Cons: Can be a little heavy to carry and not exceptionally stable.
Pochade Box
Pochade Boxes are more of a storage box than an easel but they are very convenient for travel or for painting Plein Air.
The lid flips up to act as an easel and your palette can be placed under the lid. There is a storage compartment in a out drawer for storing your art supplies.
You can sit the Pochade Box on your lap or a flat rock or bench to paint. It is great for doing small, quick thumbnails to take back to your studio and use as a reference for a large piece.
Pros: Small and compact, the Pochade Box is ideal for travel or outdoor painting.
Cons: Can only be used for small paintings. Doesn't have legs so you need to sit it on your lap or find a flat surface to lay it on.
Bench Easels
Bench easels or art horses are benches with an attached easel. You can sit on the bench while you paint so they are good for painting outside.

Wooden Art Horse
from: Blick Art Materials
Bench easels fold up for carrying and storage so they don't take up a lot of room.
They are not very common but they are useful if you paint outside for long periods of time. They can also be used in your studio and some come with wheels so you can move them around.
Pros: Portable and folds for storage. Provides a ready made seat to sit on while painting outdoors.
Cons: Can be heavy and clumsy. Since they are not very popular, choices of styles may be limited. They can be very pricey and a bit uncomfortable to sit on.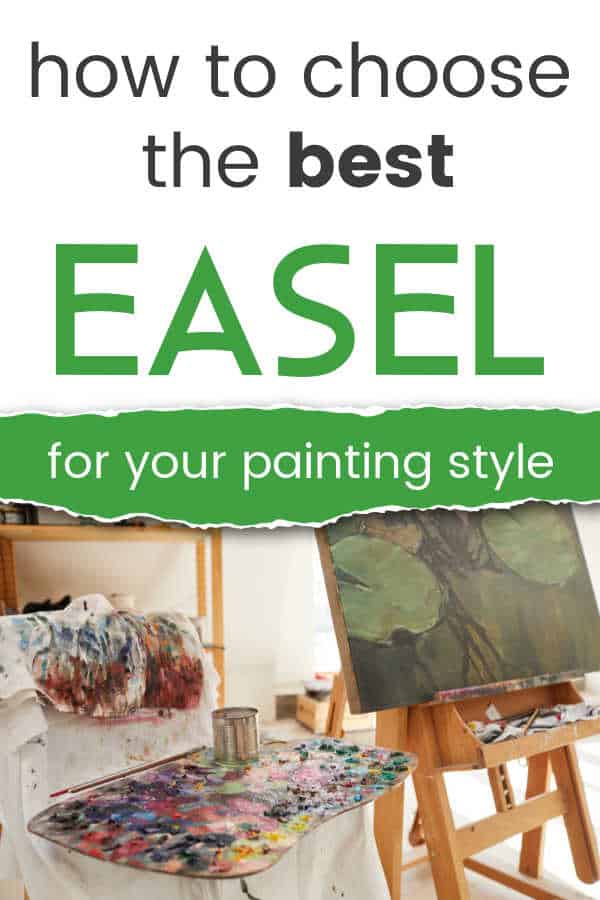 Taborets
This is something that is definitely on my wish list to buy. A Taboret is more a piece of furniture than an easel.
It is a cabinet that has a fold down easel and numerous drawers and shelves for storing art supplies. They usually come with a place to store paints or whatever medium you are using. They also have space for your palette and water or solvent container.
It all folds down into the cabinet and looks like a regular piece of furniture for your living room or dining room. This makes it ideal if you don't have a studio and must work in your home.
Taborets are also ideal for people like me who have mobility issues. Everything you need is in one place so you don't have to continuously hobble around your studio to get supplies.
Taborets aren't cheap, ranging from $300 to over $1200 USD depending on what design you buy. If you have the budget but not the space, this might be an ideal solution for you.
You could also possibly find a used one or have someone build a custom one for you. It may be a little cheaper, especially if you have a family member or friend who has some carpentry skills.
Pros: Taborets keep everything handy in one space and can blend in with the other furniture in your home. They also have wheels that make it easy to move to whatever area you want to paint.
Cons: It is pricey and may be a little large for very tiny living areas. Shipping may also be an issue if you order one online.

Best Caitlin Taboret and Easel
Drawing Desk
This is one more option that isn't technically an easel but can certainly work for those of us that have disabilities.
Most of the time I use a table top easel for painting. It sits on a bench and I have an adjustable bar stool that I sit on. It works well for me since I don't have the space for a large studio easel.
However, I also use my drawing desk for painting. It is ideal because it tilts up somewhat like an easel and has a bar at the bottom that keeps the canvas or paper from sliding off.
It also has a side shelf for holding supplies and I also use a plastic cart that has wheels and drawers so I can move my supplies closer to me while I paint.
The nice thing about the desk is that I can also lay it flat and use it for taking pictures of my work or demonstrations. I have a holder for my iphone that attaches to the desk for shooting videos. I can lay my laptop on the desk for writing these articles also.
It is not an ideal setup ( I am renovating a larger studio space yay! ) but it works for me right now and gives me the support and stability I need. You have to do what works for you. 😊

Martin Universal Design Dorchester Split-Top Table
from: Blick Art Materials
A Few Last Tips for Choosing an Easel
Do lots of research before purchasing your easel. It is one of the most important tools for your work. Buying one that doesn't adjust to the height you want it or is too unstable to paint with can make your painting session very frustrating.
Check out pricing in different stores and, if possible, see how the easel looks out of the box. You can ask fellow artists for advice or maybe check nearby art schools to see what they use.
Buy the best one you can afford that works for you. You can always upgrade later.
Many artists like to have a selection of different types of easels. You aren't limited to just one. You may like to have different styles depending on your floor space, the scale of your work and your budget.
Each type of easel can offer you something different but no matter which one you choose, sturdy, adjustable easels are the best art easels.
I hope these tips and explanations help you choose the best easel for your painting style.
Thanks for reading.