Every artist has there own "thing" they work on. That aspect of their art that eludes them.
It changes from time to time depending upon what season of their art journey they are in.
With this particular piece, I was working on expressing emotion in my drawing. It is something I have been struggling with.
To get the emotions not only in the lines of the facial features, but in the overall feel of the piece.
**This page may contain affiliate links to products I have used or recommend. If you purchase something from this page, I may receive a small percentage of the sale at no extra cost to you. For more information click here.**
I wasn't concerned with the technical aspects of the drawing. That will come with time and practice.
Being able to get the feelings across to the viewer, I think, takes more than skill, although skill does play a big part.
It also takes the ability to let that feeling or energy flow through the pencil or brush onto the surface to express emotions in your drawing. It is hard to describe accurately.
In a black and white drawing you don't have the option to use dramatic pops of color to enhance the emotions.
You can only use shadow, darks and lights, to make the emotions heavy or light.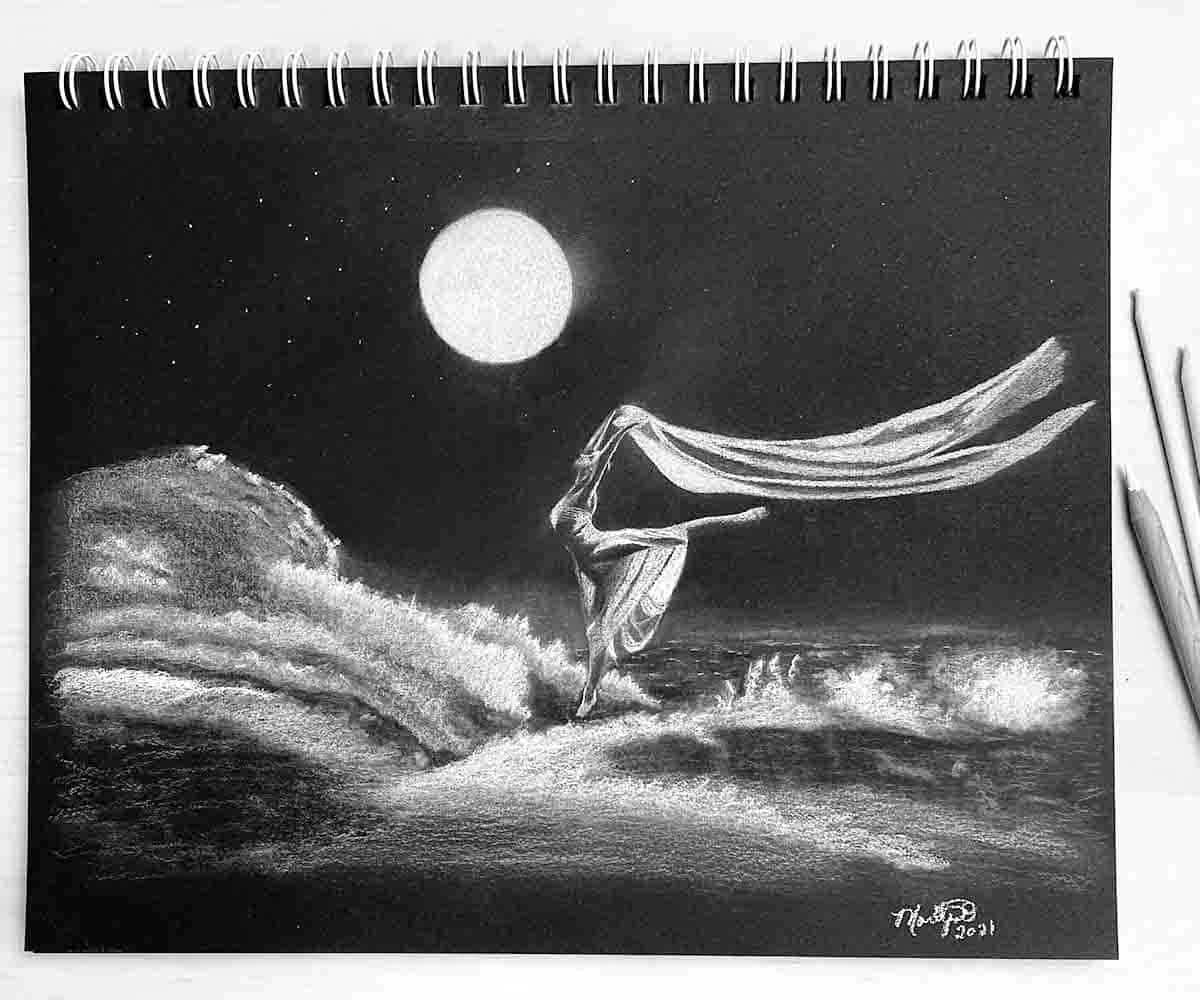 This is where your knowledge of value, shadow and depth is useful. For more information on value, see my post What Is Ment By Value In A Piece Of Art.
You might also be interested in reading about highlighting and shading in this post.
Emotion Through Art
Drawing on your own experiences when creating a piece can help you express feelings in your drawing. Our work often follows whatever mood we are in while working on it.
Drawing a happy, lighthearted scene while thinking of a very bad time in your life will confuse the viewer. Your strong negative emotions will come across in your drawing.
That is not to say you have to always feel the emotions of your subject. Just be aware of the fact the emotions can transfer to your work.
This is true for painting, drawing, writing or any form of art. Art is truly an expression of our inner turmoil or pleasure.
Adding a Backstory
Adding a backstory to your piece can add to the viewers emotional experience.
Drawing an old abandoned house can evoke emotions in and of itself. Adding a battered and worn child's toy, abandoned on the front step, can ramp up the emotions of the piece.
It is no longer a drawing of a dilapidated building, but a home that once had life.
It leaves the viewer wondering what happened to the family and maybe feeling a little nostalgic for their own childhood.
Emotions in figure drawing can be shown in more than just facial expression. Body language is also important.
The posture of the subject can convey pain, sadness, dejection, joy or almost any emotion.
The face can be completely hidden and yet you can show how the person is feeling in that moment simply by how the figure is presented.
You can draw someone with there shoulders hunched and hands hidden in there face and it will show sadness or despair.
Check Out CreativeLive's Free On-Air Classes
The surroundings can also contribute to the overall emotional feel of a piece. A figure drawn with arms upraised, surrounded by broken glass would convey despair or frustration.
The same figure surrounded by sunshine and a field of flowers could convey joy and happiness. The drawing has to be contextual in order to have the overall feel you are going for.
Drawing Your Feelings On Paper
Some artists, myself included, use words to map out the overall feel of the piece they want to draw. You can try writing down several words that relate to the emotion you want the drawing to show.
Try starting with a idea or emotion and adding related words in a spoke like configuration, radiating out from the central word.
You can come back to this "wheel of emotion" as you work on your piece to help keep you on track and explore all the possible angles of this feeling.
I like to write poetry, so I often have several poems that I can use as inspiration. I write when I'm in the mood and later paint or draw my poem.
Words can evoke strong images and feelings and enable you to express emotions in our drawings. Use these images as a basis for your artwork.
Creating a piece of art can be more than just painting or drawing a pretty piece intended for sale.
Art can be a way to express your feelings, deal with strong emotions and help you to de-stress.
We are never fully satisfied with our work and are definitely our own worst critics.
As with all things in life, we get closer to our idea of perfection with practice.
The more you draw, the more you learn how to put life into the piece and how to express emotions in your drawing.
I hope you continue to draw every day and I know you and I both will get better with practice.
For more drawing tips see my posts on improving your drawing and choosing the right paper.
Thanks for reading.